California's First & Only Mountain Coaster is Mineshaft Coaster
Mineshaft Coaster is a roller coaster thrill ride! It is commonly referred as a mountain coaster, which is built directly into the mountainside. It allows riders the freedom to control the speed of the ride, which can reach up to 30 mph. The new Big Bear ride is family-friendly. Therefore, all generations can enjoy it. Mineshaft Coaster is the first and only mountain coaster in California! Of course, this is great news for those seeking something new.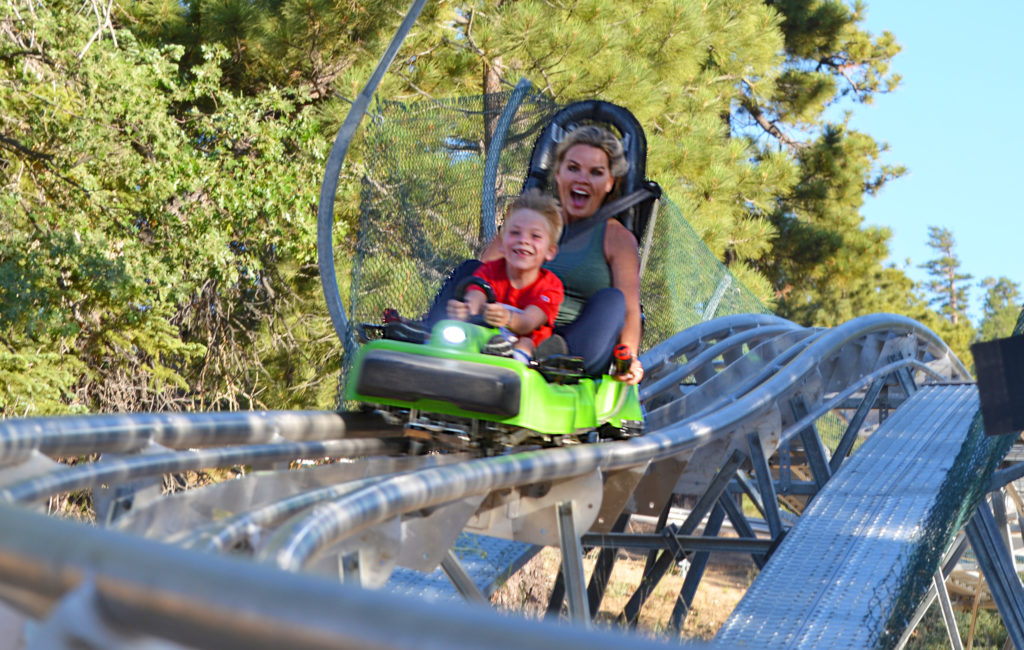 Mineshaft Coaster carts are fastened to the track. Therefore making it very safe. It can accommodate one or two persons. Two people in a single cart must be from the same household. Each cart comes equipped with a side-lever braking system. This allows a rider full control of the cart. First, this feature gives individuals the ability to go at their own pace. However, riders can reach max speeds of 30 mph if they choose.
Mineshaft Coaster is quite big! It's a steel track that stretches 5,300 feet in length. It spans several acres along the natural curvatures of the mountain. The ride presents a variety of thrill-ride features, too. These include steep drops, rollers, dips, twists, hairpin turns, tunnels, bridges and 360-degree corkscrews. The ride is estimated to last about eight minutes. Mineshaft Coaster is fun from start to finish.
The ride presents a variety of thrill-ride features, too. These include steep drops, rollers, dips, and twists. Furthermore, there are hairpin turns, tunnels, bridges and 360-degree corkscrews. The duration is estimated about eight minutes. Depending of course on the speed of the rider.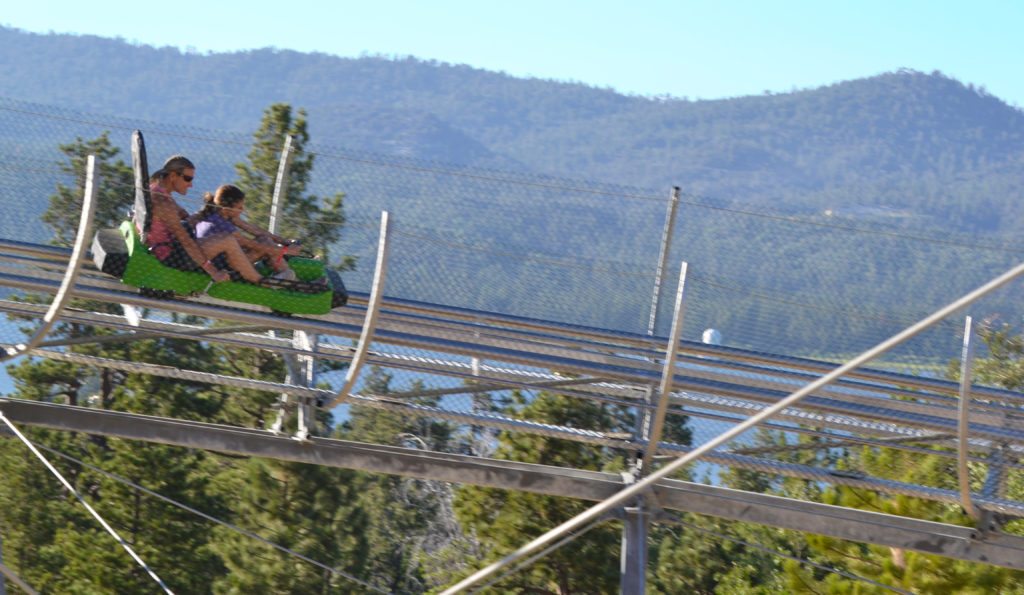 Fully Prepared for Covid-19
Alpine Slide is fully prepared for Covid-19. Therefore, it is following necessary CDC guidelines. For example, physical distancing policies and multiple hand-sanitizer stations throughout the park. Moreover, the staff wears face coverings. Plus, there is continual disinfection of high-touch points and guest-flow signage. Also, Alpine Slide pro-actively encourages guests to wear face coverings. Furthermore, Mineshaft Coaster is a unique ride during the coronavirus pandemic. Why? It's mainly because of its individual carts, which provides a fixed way for social distancing in place.
Mineshaft Coaster opened in July. Hence making it the park's sixth summer attraction. Other attractions include the Alpine Slide ride, a double waterslide, the Soaring Eagle ride, a go-kart track and miniature golf. Most importantly, the company's top priority is the health and safety of both guests and staff.
Mineshaft Coaster Details
Height requirement for a solo rider is over 54". However, passengers that are 38" and above may ride with a driver 18 years or older. Furthermore, the driver must be at least 54" tall. Another point, is passenger may not obstruct driver's view. Maximum combined weight is 375 lbs. Moreover, max weight varies with weather conditions.
The cost is $20 per person (54" and above), per ride; and children who are at least 38" and below 54" in height are $10 per person, per ride. Alpine Slide is located at 800 Wildrose Lane (just off Big Bear Blvd.). Alpine Slide is open daily. Operating hours are Sunday through Thursday 10 a.m. to 6 p.m. and Fridays and Saturdays from 10 a.m. to 9 p.m. Guests are encouraged to call ahead for operating hours. Note: operating hours may change throughout the year. For more details call 909-866-4626 or visit AlpineSlideBigBear.com.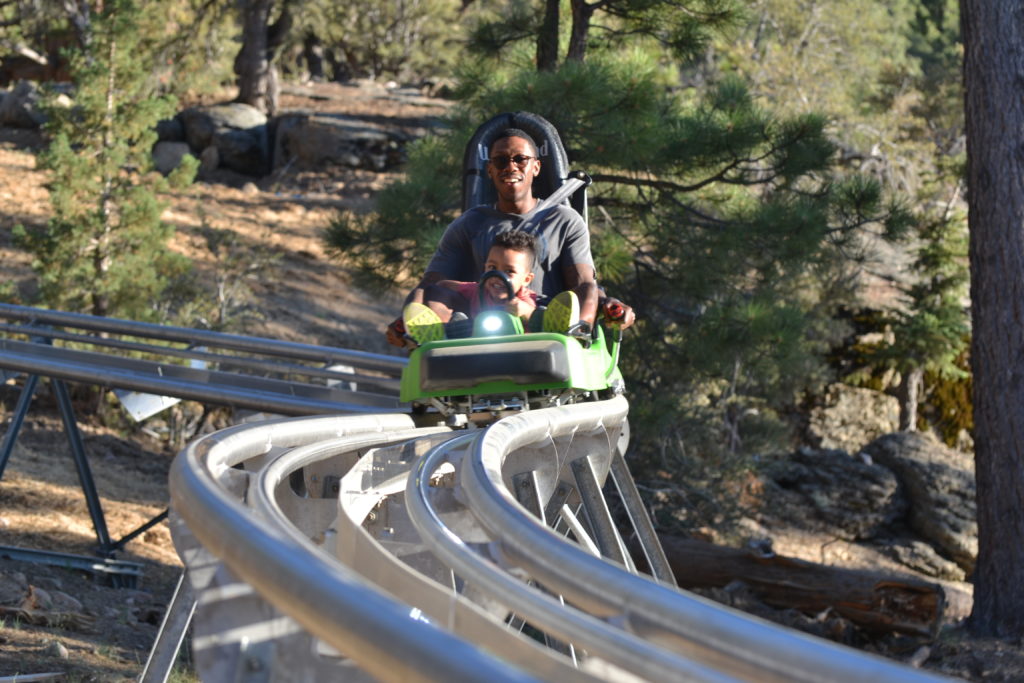 For more thrilling activities in Big Bear check out http://www.bigbearguide.com/recreation-activities/