Big Bear's Fall Season
Big Bear's fall season is ideal for those who want to escape for a day or take a mini-vacation. The fall months are the time to experience the splendor of Big Bear's autumn hues. There are only a few select places to experience a real autumn season in Southern California. Big Bear tops the list! From mid-October to mid-November, Mother Nature transforms Big Bear Lake into a sea of gold, crimson, amber and yellow.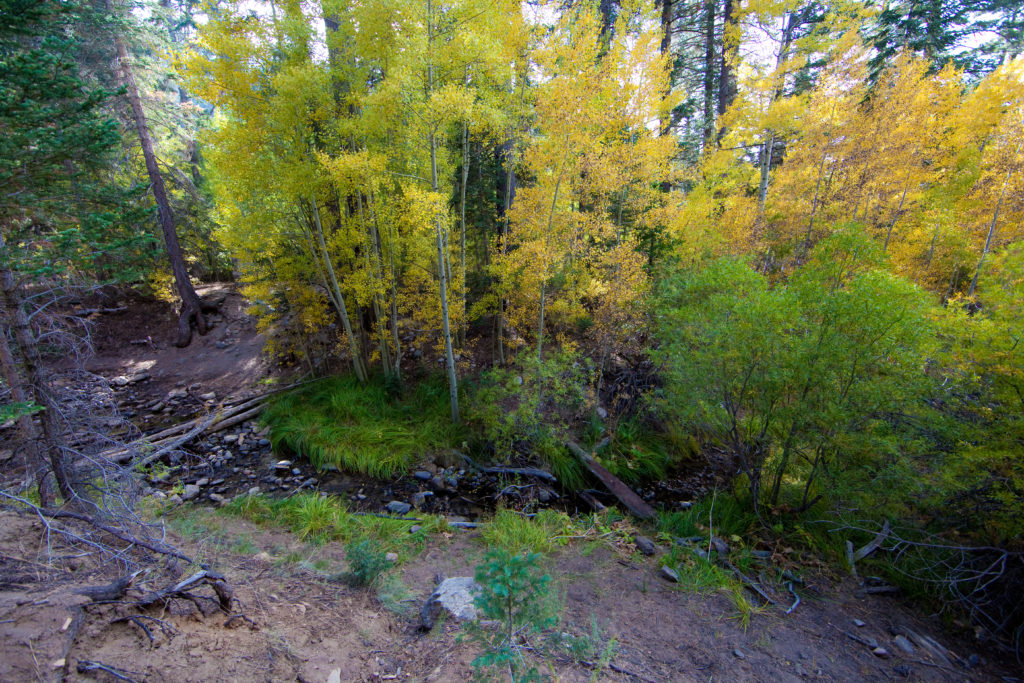 Of course, the colors combined with the crisp air bring out something special in everyone. Here are some autumn-themed specials worth considering while visiting Big Bear…
Barrel 33
Barrel 33, located in Big Bear Village, provides an elegant and inviting environment, especially for wine lovers and craft beer enthusiasts. The shop exploits Oktoberfest, Big Bear's most celebrated fall event, by offering Enegren Brewing Company's Bavarian-style lager. It also gives guests that come dressed in lederhosen, a dirndl or other Oktoberfest-themed attire 50-percent off any draft beer. Barrel 33 offers a natural craft cider. It's made with real pumpkin and freshly pressed apples.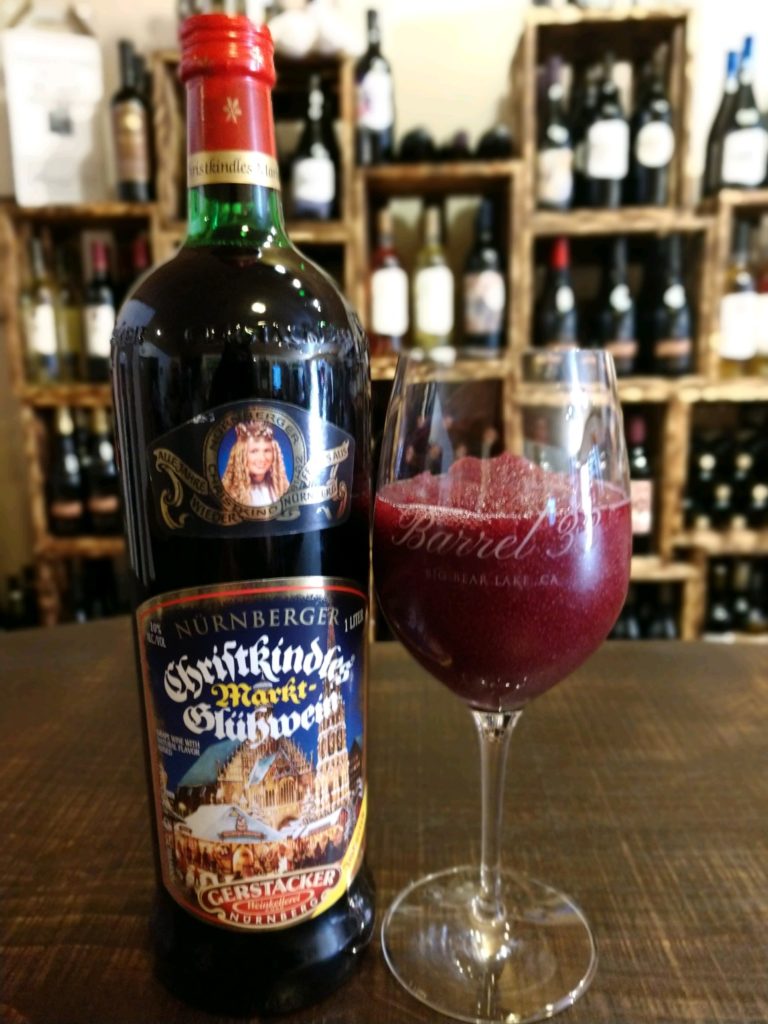 Moreover, it's combined with seasonal spices such as cinnamon, ginger and clove that are certain to rouse the taste buds. One of the more distinct items on Barrel 33's menu this fall season is its Glühwein, which is a mulled-spiced wine slushy, blended together with flavors of the season. Sugary enticements include baked chocolate goods and pumpkin treats.
Outside the storefront you'll find wine barrels with Jack O' Lantern-style faces.Above all, they capture the fall season in a completely different fashion. These carved wine-barrel creations are handcrafted by the shop's owner. They are available for purchase. For more details call 909-878-0838 or visit Barrel33BigBear.com.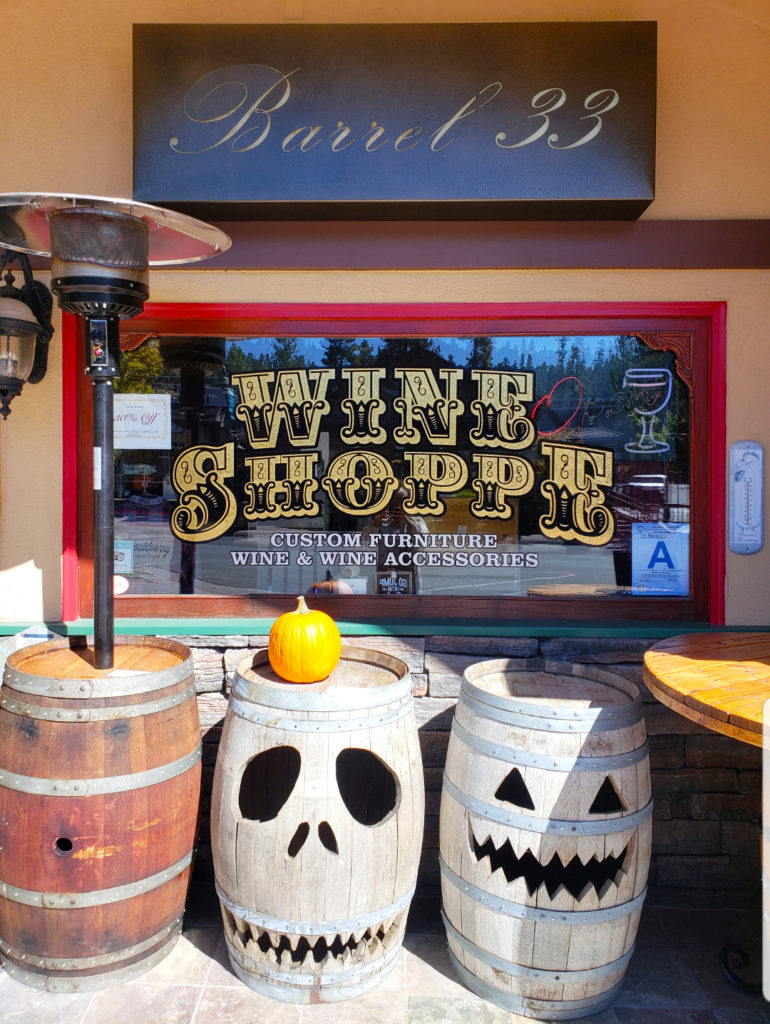 The Copper Q
The Copper Q is located in the heart of Big Bear Village. It is the place to get a gratifying jolt of caffeine with its variety of choice espresso drinks. This fall's menu includes Honey Maple Latte, Butterscotch Cappucino, 'Fall'-mond Latte (an almond latte), and Iced-Pumpkin White Mocha. For those who wish to skip the caffeine should try the Buttered-Apple Cider. It's a crisp, refreshing signature drink. For a sweet tooth fix try Pumpkin Brittle, Spiced Chai Cupcakes, Vegan Maple Cupcakes, or Chocolate-Swirled-Pumpkin Bars.
The Copper Q has a custom-built demonstration kitchen, which treats guests to free cooking demos every Thursday, Friday and Saturday. Interactive in-store events are scheduled for October through November. The cooking demos give guests the opportunity to interact with the chef. Because they have a front row seat, they get to watch him/her whip up amazing autumn-flavored dishes. Some recipes on the cooking demos program include Pumpkin-Carrot Soup with Coconut Cream, Harvest Couscous Salad, Pumpkin Cake Roll, Nutty Caramel Pumpkin Bars, Pomegranate Tabbouleh Salad and Pumpkin Tiramisu Cake…Yum! For more information call 909-878-4777 or visit CopperQ.com.
The Pines Lakefront
The Pines Lakefront is an upscale steak & seafood restaurant. It is the only lakefront dining in Big Bear Lake. The Pines Lakefront features a special Oktoberfest menu that only comes once a year (October through the first week of November). Why spend money on a round trip flight to Munich, when you can get a gourmet Bavarian meal at The Pines Lakefront? The custom, made-to-order menu gives patrons an opportunity to savor the flavors of authentic German fare.
One of the most popular items on the menu is the Weinerschnitzel. It's a veal cutlet that's pounded thinly by hand, then breaded and pan-fried to perfection. The German sausage platter includes a variety of different German sausages such as Weisswurst and Knockwurst. For a robust autumn culinary delight try the Black Forrest Special. It's a wild-game sampler platter of Elk Ribs, Venison Chops, Texas Wild Boar and Duck Breast. All German meals are served with Red Cabbage Sauerkraut imported from Germany and homemade German Potato Salad.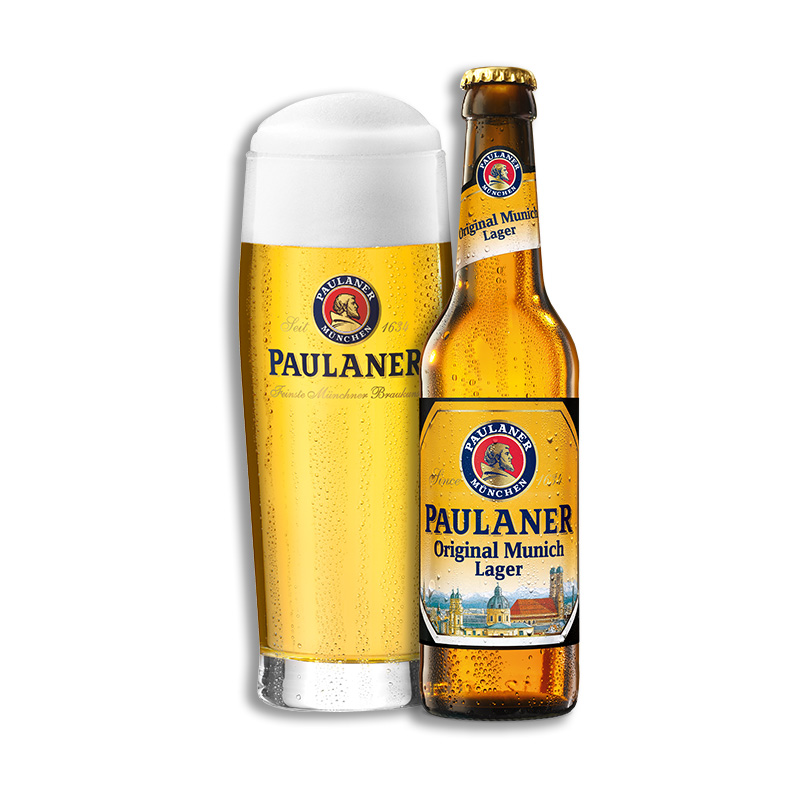 Paulaner beer is on tap! This is perfect for those who wish to pair the same beer that's served at the original Munich Oktoberfest. Furthermore, those who prefer wine should try Blüfeld, a Riesling from the world-renowned region of Mosel, Germany.
Topping off Oktoberfest-themed food at The Pines Lakefront is a colossal-sized Bavarian pretzel and if there is any room for desert try the warm apple strudel. To make reservations call 909-866-5400 or visit ThePinesLakefront.com.
Big Bear Lake Oktoberfest
Big Bear Lake Oktoberfest is known for serving up a German feast fit for a king. This year, the 49th Annual festival introduces three new menu items. These are certain to please any appetite! First up, is the Schnitzel Dinner, which is a tender pork cutlet. It is hand pounded and breaded in eggs, milk and breadcrumbs, deep-fried to a golden brown. It's served with a lemon wedge and topped with parsley. The dinner comes with two German potato dumplings, which is like they do in Germany.
The Brat Burger is new this year, but is already gaining momentum as a crowd favorite. The Brat Burger combines two iconic Oktoberfest beloveds, Bratwurst and Pretzel, with a Burger. It's a meal in itself! It starts with a 100% Black Angus all-beef patty. Then combined with Swiss cheese. Additionally, On top of that, is an entire bratwurst topped off with pickles, grilled onions and sauerkraut. The sauce is a homemade German Dijon mustard aioli. All of this is sandwiched between two fresh pretzels. This massive sandwich pairs well with a Warsteiner beer!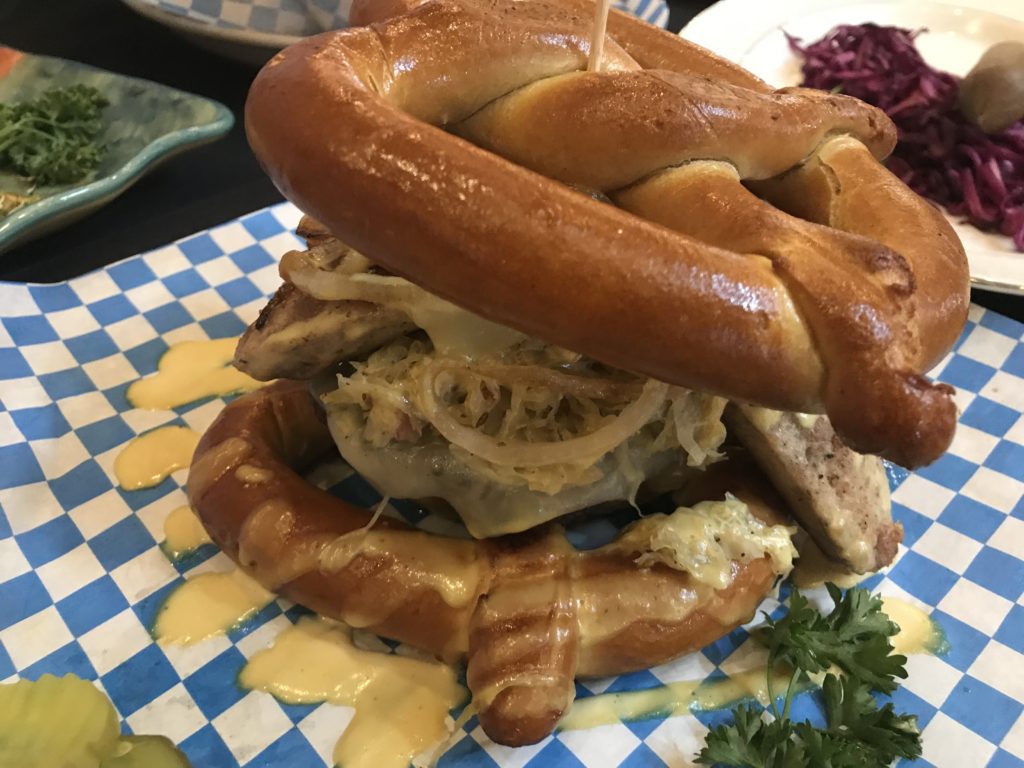 Another new menu item is the Vegan Beer Brat, which is a vegan sausage that meat lovers even enjoy! It is served on a bed of Pickled Red Cabbage and topped off with a German Vegan Dill Pickle Spear. For more details regarding tickets and general information, log on to BigBearEvents.com, or Facebook, or call 909-585-3000.
Interiors on Fox Farm
Interiors on Fox Farm Road is Big Bear's fall decor headquarters! Embrace the warmth of seasonal colors with a large selection of silk floral arrangements. Furthermore, add a touch of whimsy with cute Halloween and Harvest characters. As well as tabletop accents. Get ready for company with our in-stock selection of dinnerware and serving pieces. Of course, table linens in beauty-fall colors. Furthermore, there are comfy cozy pillows and throws for autumn snuggling, too! For more details call 909-878-0838 or visit Interiorsbbl.com.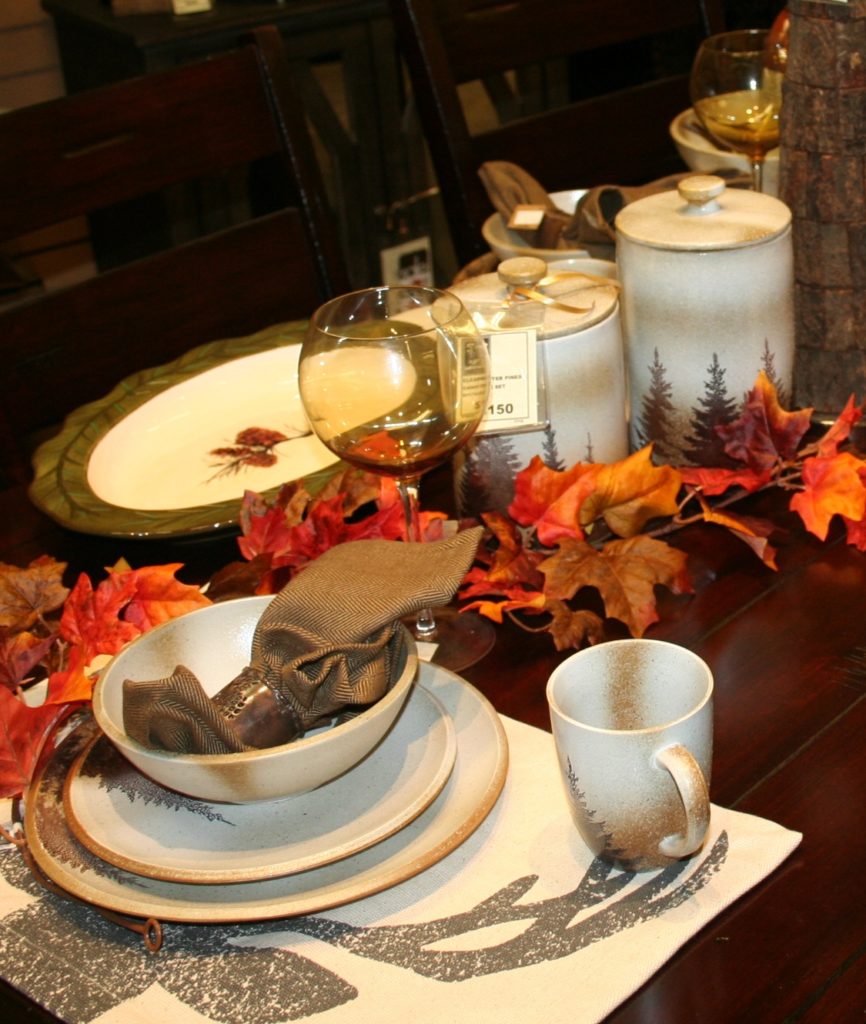 Barnstorm Restaurant
The Barnstorm Restaurant, located at the Big Bear City Airport, is another restaurant that offers an Oktoberfest-themed cuisine. Of course, it's only fitting considering its owner Renee Wagner is a German immigrant. Ms. Wagner treats her customers to family recipes handed down from her mother and grandmother.
The Barnstorm Restaurant serves two different Schnitzels. The Jaeger Schnitzel is hearty serving of sautéed pork cutlets smothered in a creamy mushroom sauce made with plenty of savory herbs and spices that adds to this home-style favorite. The other is the Knusper Schnitzel, breaded tender pork cutlet that is fried golden brown and topped with a poached egg. After that, try the German Sausage plate, which includes a bratwurst and a knockwurst. They're both plump and grilled with mouthwatering sear marks. The sausages are served with traditional spicy mustard. Oktoberfest entrees come with sweet Red Cabbage Sauerkraut. Also, homemade Potato Pancakes with sour cream and applesauce. Call 909-585-9339 or visit BarnstormRestaurant.com.
Mountain Witch Tea Company & Old Country Store
The name alone suggests Halloween! However, this old-fashioned country store features specialty foods and crafts and gifts made in Big Bear by locals. It's the ideal store to find the flavors of Big Bear's fall season. Whether its in a bottle or jar, such as jams, jellies, apple butter and cider. Plus, there is locally grown honey and sweets such as fudge, candy and baked goods. Therefore, it is the store to get in the mood for fall. Check it out at MountainWitchTea.comor call 909-366-0580.
Alpine Slide at Magic Mountain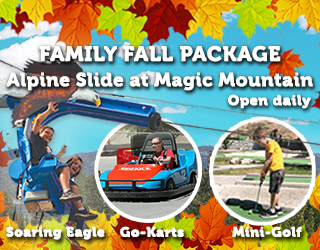 This fall season, The Soaring Eagle, Go-Karts and Miniature Golf at Alpine Slide at Magic Mountain are bundled together. This makes for a great package deal. Therefore, it's suitable for an affordable family outing. Families have something fun to do in Big Bear this fall no matter what day of the week.
It's because Big Bear's favorite amusement area is open seven days a week. Best of all, the special discounted package includes one round of admission for each of the three attractions (Soaring Eagle, Go-Karts and mini golf)> The package price is only $20 per person (a 13% discount). For pricing, height requirements or general information visit AlpineSlideBigBear.comor call 909-866-4626.
Chirp Nature Center
Chirp Nature Center, the birding experts of Big Bear Valley, is conducting a special Bird Talk on Saturday, October 19, at 4pm. The session hones on owls and ravens, two birds that often are associated with Big Bear's fall season. Moreover, the store offers fun Halloween-themed rubber duckies. For more details call 888-412-4477 or visit ChirpforBirds.com.
Action Tours
Action Tours adds a fun autumn twist to its ziplining tours. Participants throw pumpkins at a target placed on the ground, while ziplining through the trees. Those who hit the target win a prize package. Pumpkin Smash Tours are every Saturday in October at 1 p.m. Action Tours also offers Segway Tours. Moreover, these specialty tours give guests a different way to venture out to see fall foliage in Big Bear. An experienced guide shows guests the best spots to view fall colors. Tours are available daily from 12:30 p.m. to 3:30 p.m. For details about Action Tours Pumpkin Smash Tours or its Segway Fall Foliage Tours, call 909-866-0390 or visit ActionToursCalifornia.com.
In conclusion, Big Bear is the place to enjoy everything the fall season has to offer. Check out fall colors in the daytime and snuggle up to a cozy fireplace at night.