Infectious Bavarian Tunes by Four German Bands Fill Big Bear's Fall Months
Big Bear Lake Oktoberfest provides great entertainment again this year. It brings more Bavarian-style music than ever before, which means you should expect plenty of fun and dancing! The 49thAnnual Big Bear Lake Oktoberfest features four different bands direct from Germany. This all happens in a nine-weekend stretch, which spans from September 7 to November 2, 2019. This marks the first-time ever that Southern California's number-one-rated Oktoberfest will have four different German bands perform live in the same season. There is a blend of traditional German polkas, sing-alongs and of course the Chicken Dance. Big Bear Lake Oktoberfest also gets its fair share of classic rock covers, country hits and today's dance favorites. All four German bands help create the same vibe and pageantry of the original Bavarian Oktoberfest in Munich, Germany.
Franken Power Express 
Franken Power Express is the first German band slated to take the stage at the 49thAnnual Big Bear Lake Oktoberfest. They come direct from Hammelburg, Germany. The energy of this band is certain to stir up a lively atmosphere. They perform  September 14-15 and September 21-22.
Frankenbellen Express
The next two weekends Frankenrebellen Express performs September 28-29 and October 4-5. This band that hails from the Franconia region of Bavaria sings with thick German accents and delivers a fun-style of party music.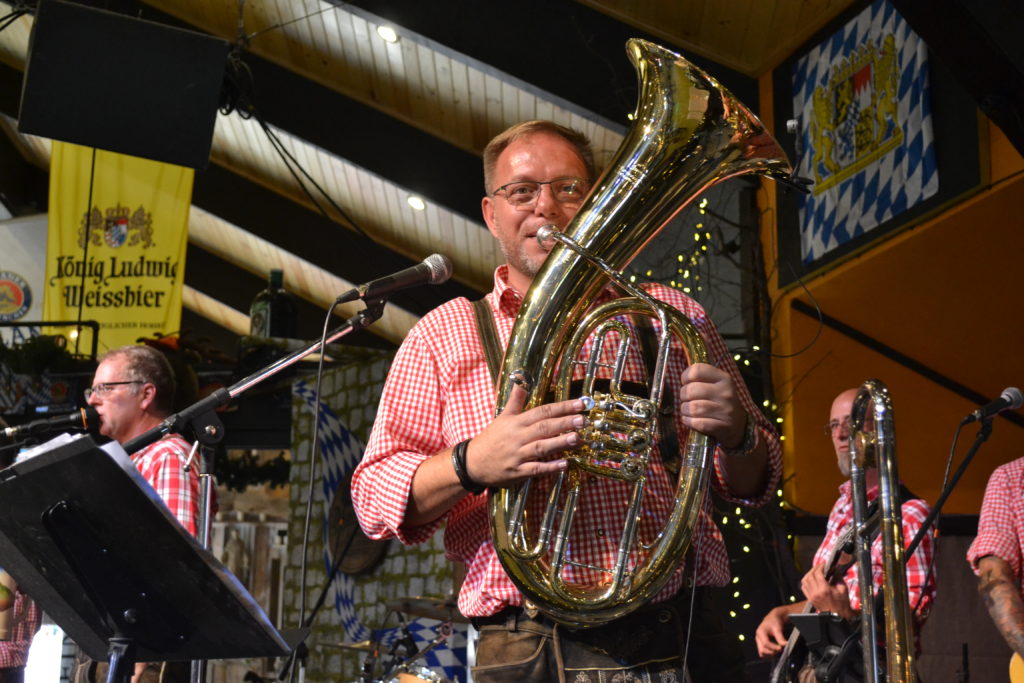 Die Bohmische Straßenmusikanten
Die Bohmische Straßenmusikanten is from eastern Bavaria. They bring a very unique style of Bohemian brass music during Oktoberfest's peak weekends October 12-13 and October 19-20. This band combines street music, fast-paced rhythms, Bavarian folk standards and  pop hits.
Goldeisen & The Express Band
Goldeisen is a nine-piece band. They also reside in Bavaria, so you should expect even more great music that comes from this region. It was by by popular demand to get these guys to return. Expect people to get onto the dance floor when this band plays its upbeat jams. They play on October 26-27 and at Oktoberfest's special encore event Saturday, November 2. The Express Band, Southern California's premier German band performs the first weekend September 7-8.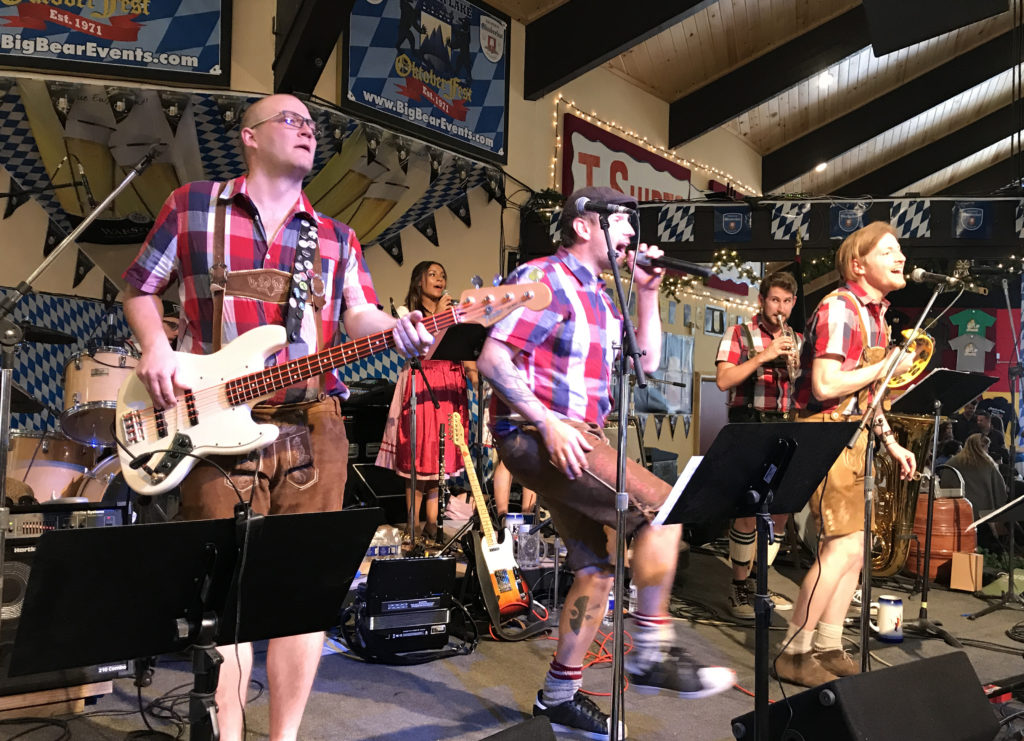 Big Bear Lake Oktoberfest delivers a genuine Bavarian-style celebration with alpine scenery and heritage
This German festival sincerely reflects the spirit of the original Oktoberfest. It even serves the very same beer poured at Munich's Oktoberfest! There are two full service bars located inside the Convention Center and four different beer gardens outside. Beer lovers should check out the Craft Haus, which provides a variety of micro brews and craft beer. The food is very authentic to German tradition, too. The bratwurst and knockwurst is from a German butcher in Los Angeles, and fresh apple strudel and pretzels are delivered weekly from a German bakery!
Contests, Competitions and Good Times
Fun competitions and contests at Oktoberfest include log sawing, stein carrying, shoot & yodel, a version of beer pong, and stein holding. Children's fun and games include kiddy mug holding matches and a kids' play area with five different giant inflatables. Dance troupes perform customary dances, and guests get into the action by flapping their arms and clucking away to the Chicken Dance.
The 49th Annual Big Bear Lake Oktoberfest begins Saturday, September 7, and then runs for nine weekends (Sat. & Sun.). It ends Saturday, November 2, 2019. The weekend festivities takes place at Big Bear Lake Convention Center, located at 42900 Big Bear Blvd. in Big Bear Lake. Oktoberfest kicks off with American's Hero weekend on Saturday, September 7 and Sunday, September 8.  All past and present military, fire fighters and law enforcement get free admission. Tickets to all 2019 dates go on sale Thursday, August 1, 2019. For more details regarding tickets, Burgermeister Party Packs, and general information, log on to BigBearEvents.com, or Facebook, or call 909-585-3000.
To find great places to eat in Big Bear, including Wyatt's Grill & Saloon, check out the restaurants in Big Bear page.