Big Bear Lake Introduces Big Bear Ropes Course
Big Bear Ropes Course is a new recreation feature this summer that reaches new heights with a high-octane obstacle course that towers 35 feet off the ground! This state-of-the-art aerial adventure designed to give families an exhilarating yet challenging experience all bundled into one.
Big Bear Ropes Course is far from an ordinary family day at the park. Instead, this two-story obstacle course that spires high above Big Bear allows participants to face an array of challenges and features. In fact, Big Bear Ropes Course stretches over 6,400 square feet. Many of its features exposed to nothing but air! There are a variety of suspension bridges, some with wide-open gaps, some with nothing but two-inch round cables to scramble across, yet another that overhangs on a curving structure with dangling ropes to grasp onto. All in all there are 37 different obstacles on this towering two-level ropes course. There is even an airborne element added to the equation for those who wish to experience the joy of flying. The Sky Rail Zipline stretches 80 feet and bananas out onto a ledge, enhancing the overall excitement.
"Nothing but thrills! Were bringing a whole new excitement to Big Bear," said Big Bear Ropes Course Director of Operations Scott Voigt.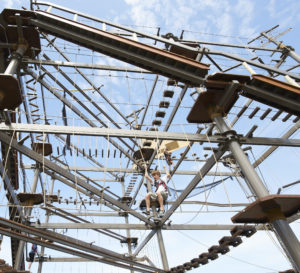 Big Bear Ropes Course Safety Features
While some features teeter and other features wobble, participants need not fret about falling, because they're at the utmost level of protection. There is an advanced safety system, which includes a five-point, full-body harness. It connects to a safety line. And that safety line has a slider puck inserted into a continuous belay track system. Each participant is fully secured at all times from start to finish. The slider puck can only be inserted or taken out of the track by a certified operator at either the entrance and exit of the ropes course.
Big Bear Ropes Course is a self-guided excursion, and participants can conquer the two-level course in a variety of combinations at their own pace. Some participants may choose to push the limits and try to do all the obstacles, or hone in on a few favorites along the course. There are certified operators on the ropes course at all times in case any participant requires assistance. It should take most participants about 15 to 20 minutes to get through this action-packed obstacle course.
Join in on the Family Fun Adventure
Big Bear Ropes Course anticipates to make its debut the last week of June or first week of July. Once Big Bear Ropes Course officially opens to the public, it will remain open all-year round (weather-dependent). Participants must be at least 42" tall. Participants 42" to 48" must be accompanied by an adult 18 years or older. Maximum weight for an individual cannot exceed 300 lbs. The cost is $12 per person, per round. Please call ahead to get current operating hours, as operating hours may change throughout the year.Big Bear Ropes Course is located at 42825 Big Bear Blvd. (the same location as Big Bear Speedway / Big Bear Snow Play). For more information call 909-585-0075 or visit BigBearRopesCourse.com.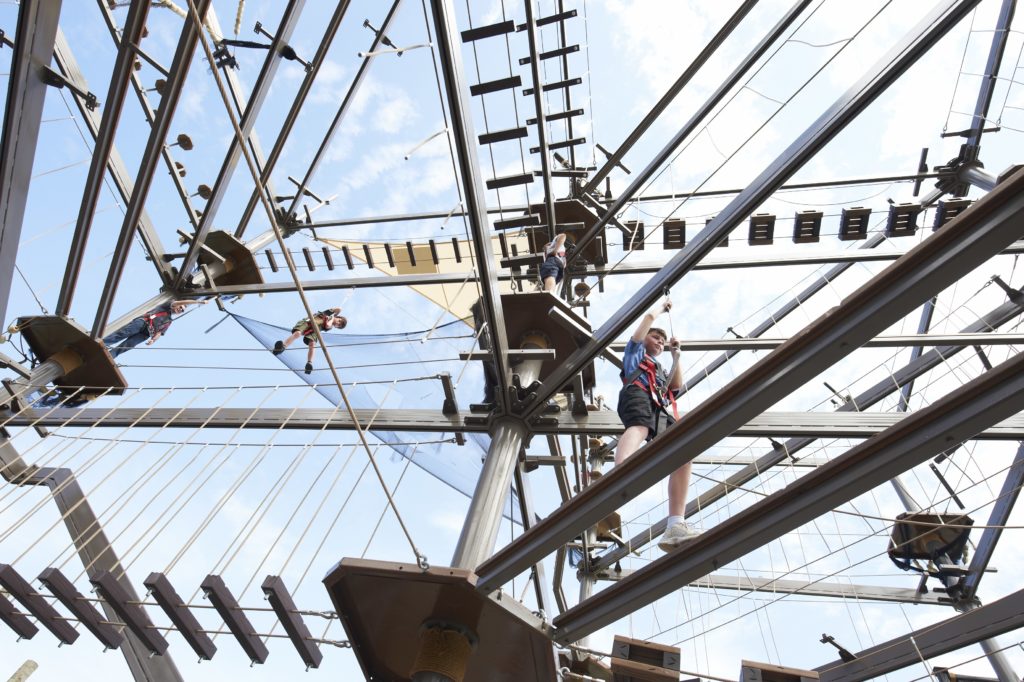 Find other family fun attractions in Big Bear here: http://www.bigbearguide.com/recreation-activities/